Posted on:December 14, 2014
At exactly 5.30am we get our wake-up call from Joey, our dedicated guide. The suite is so beautiful with the dawn light just coming in over the trees on the other side of the river bed, that it is difficult to break the mesmerising spell. But we feel responsible for everyone's early wake-up and force ourselves moving. It is a warm and clear morning.
We head to the open bar and deck, meeting place and the "happening spot" at the lodge, as it is positioned to look directly out onto a watering hole. There is no life at the waterhole at this early house and we wonder about our choice to leave so early. The Chilean lawyer is already there, quieter than usual and clearly still waking up. The German fashion store manager is up, though in our tousled state we are pleased to see that she is not looking too glamorous. Her banker husband is ever calm and caring, worried about his wife having had to make such an early start when she is not a morning person. We ask if they are newlyweds in a second marriage, as they seem so in love, but we are surprised to learn that they have been married for 13 years, together for 19. They confess that they were unable to have children, despite many attempts, and they believe that this traumatic process bonded them deeply. We turn to check the waterhole to hide our misty eyes and sniff surreptitiously into our coffee.
Everyone has arrived and we gulp down the last of our coffee and head out to the high, open game vehicle. There is the usual mental calculation from the foreigners about where to sit to maximise both safety and viewing and information from the guide. The shrewd Chilean lawyer, who is also the most nervous amongst us, seats herself squarely in the middle of the vehicle. Exactly on schedule at 6am we are off, faces full into the dawn breeze, the smell of dew and animal activity in our noses and our cheeks flushed with the excitement of what we may see.
I simply love going on safari with international guests who have never before been in Africa, let alone on safari. Every critter is a wonder and I find myself rediscovering their unlikely beauty through the eyes of the spellbound foreigners. We pass a giraffe, zebra and waterbuck, back-lit by the rising sun. You can sense that the foreigners would be happy to spend an hour at each of these sightings, but Joey is a man with a plan, and knows we can come back to these sightings later in the day. We head straight out towards Jones' Dam North of Skukuza.
The Chilean lawyer is waking up and asks why it is important to be out so early. We explain that the early morning in the African bush is like a changeover between night shift and day shift at a factory – there is a lot of movement of animals happening, and this is the highest likelihood of seeing nocturnal animals like cats (lion, leopard, cheetah, serval for example) and dogs like hyena and wild dog. It is also the coolest time of day, when the animals are most likely to be mobile and hunting. In the heat of the day, even from 8am onwards, they are more likely to have found some deep shade in which to rest for the day, and when the animals are stationary it is almost impossible to spot them. She is satisfied and we are all motivated to join the search.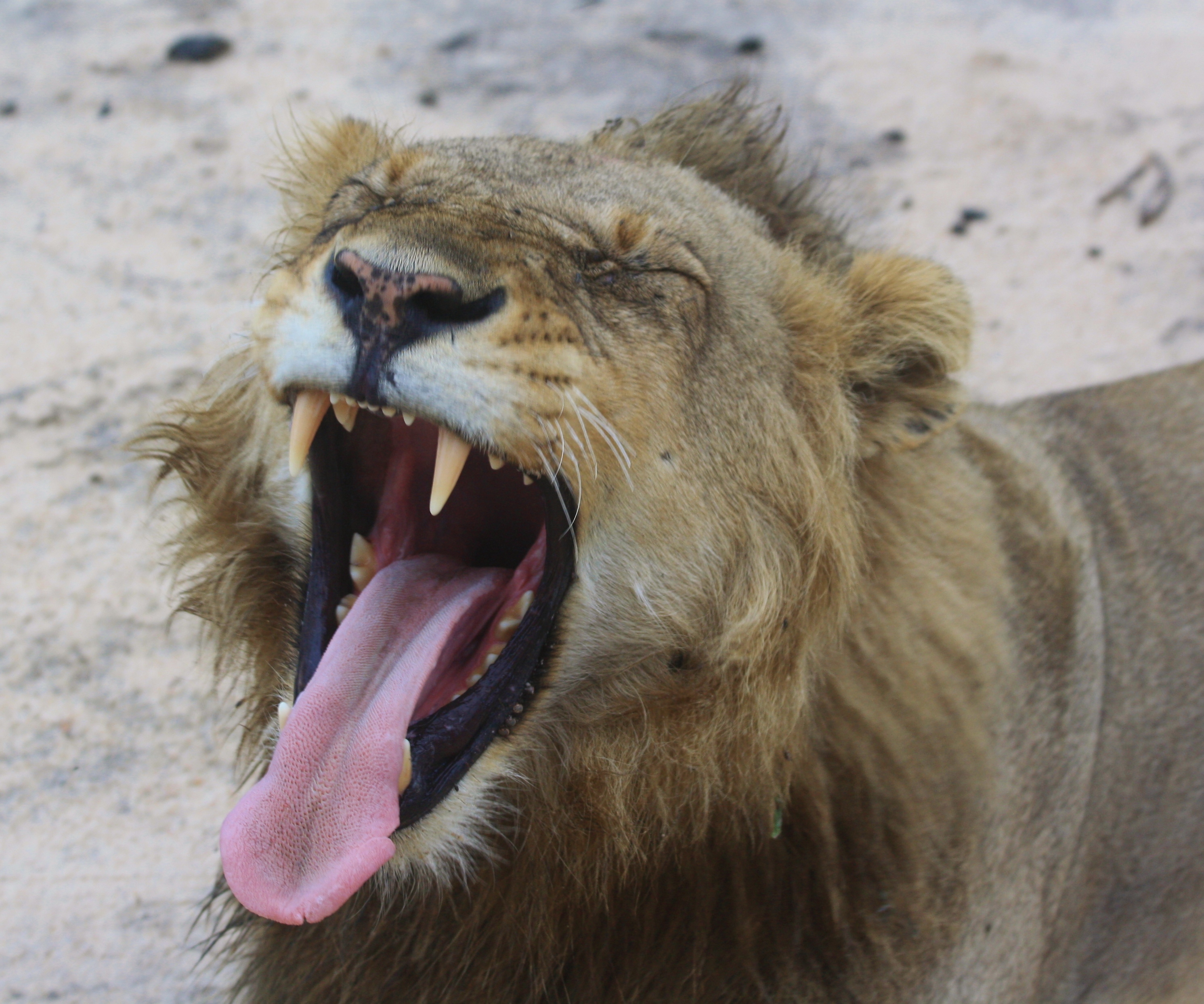 We do not have long to wait until we are rewarded. As we drive into Jones' Dam we are distracted by a yawning hippo in the water. But we quickly realise that he is not alone and to our right we see a band of four lion brothers who are back from a rough night out and lying down next to the dam. We drive right up to them and they reward us with grumpy yawns and morning hair. Their dark manes are just growing out and they look like awkward students trying to impress by growing out their hair and a beard. One blesses us with a spectacularly stinky scat right next to the car, payback for having been woken. It seems I got more than I bargained for with my specific African-dawn-lion-marking fantasy. Seeing these boys in their natural state is an amazing privilege and we are elated about the experience.
However the morning drive does not end there and we have an unbelievably lucky outing. We come across a huge gathering of vultures, including the pink faced Lappet Vulture, eating on a carcass. We drive right through a herd of buffalo and come up close to a parade of elephants with tiny babies. We feel fully satisfied with our morning, but even as we head back towards the lodge we come across three slim cheetah walking in parallel through the grass, and finally the cherry on the top – we see a large male leopard who is behaving strangely and is unafraid of the vehicle and heading towards us. Joey figures out that he is smelling the trail of a female leopard in heat. Not 100 metres from the leopard is a mother and young hyena walking along the road towards us.
We arrive back at the lodge on a high, too excited to speak. Sophia, from reception, asks us whether it was worth getting up so early. The German banker nods thoughtfully and says "I think so, ja." We realise this is German-speak for "Oh wow yes absolutely – it was awesome!" Sophia asks "Why, what did you see?" "Well," replies the German still soberly, "…everything."
To see the video clip of our dawn male lion yawn, click here:
Rhino Ridge Safari Lodge Projects
Thonga Beach Lodge Projects
Kosi Forest Lodge Projects
Tsowa Safari Island Projects