Posted on:January 6, 2017
Going Bush at Thonga Beach Lodge
This is one of those places where you spend the second half of your stay doing this calculation: If I sold off everything, could I live out the rest of my days here … In my case this would involve washing quite a few dishes to earn my keep, so I decide to rather enjoy this experience instead of constantly planning a longer return.
The desire for a longer return to a fabulous holiday destination may be symptomatic of a need to escape the intense stress of life, a wish to simplify or a gentle call to authenticity from the true self – or all 3 of the above. David Whyte says there is often an 'outlaw quality' to the true self, which yearns to go rogue in wide open natural spaces. These are healthy inclinations and perhaps rather than go all 'Robinson Crusoe' on life, it is possible to schedule regular lengthy breaks to enjoy this beachside blissful version of life and myself. In this way one can bring one's Crusoe-self back into everyday life to slowly find the balance we so desperately need.
Take advantage of the fabulous Isibindi Africa Lodges specials, which include romantic February free stays for your favourite person, long stay discounts and the most creative honeymoon activities. My fantasy is the Bush and Beach Break, where you get all the best that South African has to offer in one well-planned package holiday. The Fly-in Safari and Sea package is one for the Bucket List for sure. I have another quite realizable dream of traveling up through all of the Isibindi Africa Lodges in a 2-week-long Grand Tour.
Plotting and scheming about these trips gives me almost as much pleasure as doing them, temporarily nourishing my outlaw self when it grumbles in its cage of dull drudgery and everyday stress, waiting to be released again into the wilds of Africa.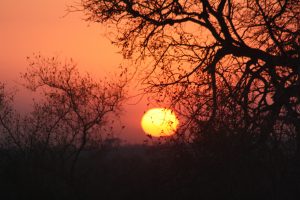 To have fun plotting and scheming your own escape, read more about the Isibindi Africa Lodges special rates and package deals by clicking on this link: Isibindi Africa Lodges Special Rates and Packages
Rhino Ridge Safari Lodge Projects
Thonga Beach Lodge Projects
Kosi Forest Lodge Projects
Tsowa Safari Island Projects